Out With the Undead
Out With the Undead
Genre: Romance
Digital ISBN: 978-1-61650-188-4
Length: Novel
Digital Publication Date: September 6, 2010
Cover art by Valerie Tibbs
This is what happens when three women's lives become hopelessly entangled.
Brigit has dealt with being one of the few female Guardians all her life. Now she's asked to help train another woman while dealing with her Charge, Liam, and the changes he's going through. To add to her workload, she needs to help Hunter, a female in her employment. Brigit pushes her own needs and wants to the back burner until they are almost boiling over. Liam wants her, but it's against the rules. Edward can give her the normal life she wants, but is he all he's cracked up to be?

To call Hunter's home life crappy is an understatement. Only after discovering everything she believed about herself is a lie do two men turn her world upside down. Driven to the brink of sanity, she needs to learn who she really is.

Regan's service worker job never prepared her for her duties with the pack.. Traumatized vampyre victims, creatures who become children when hit by sunlight, and werewolves are just a few things she must learn to deal with. But she's not sure what to do when a vampyre wants to make her his mate, and she falls for her lycanthropic boss.
Content warning, vampyre ménage a trois, explicit sex, harsh language, violence


Scarlet Angel
Scarlet Angel
Genre: Erotic Suspense
Length: Short
Pub: Dark Roast Press
Cover Art Jade Twilight
Seraphim, aka Angel, has known Detective Noah Kamrynn ever since he first picked her up on a charge of solicitation. She was surprised when he used his pull to get her off with only a warning. In the coming years she was found by Malachi, president of the Scarlet Arms. After joining the Arms she was trained in the art of being an assassin. Now her savior from years before needs her help getting revenge against his sister's murderer.
But will their feelings for one another interfere with their jobs?
Will Noah have to choose between love and revenge?
Scarlet Myst
Scarlet Myst
Genre: Erotic Suspense
Length:Short
Pub:Dark Roast Press
Cover Art by Jade Twilight
Erin Calean, Aka Myst, works for the Scarlet Arm. A brothel for the wealthy and those pretending to be wealthy. But things aren't always what they seem, the girls at the Scarlet Arms are trained killers. Beautiful and deadly.


What the reviewers are saying...
"Scarlet Myst will have you gasping by the last chapter. Jade Twilight created a world of pleasure and intrigue that will keep you spellbound until you close the book."
"Pure erotica with a whole mix of mob ties, power plays and family scandal… Scarlet Myst is suspense and sex in a tense short assignment, a comparison this read rightly deserves."
Sisters In Arms ~ Mistress of Tiethla Book 2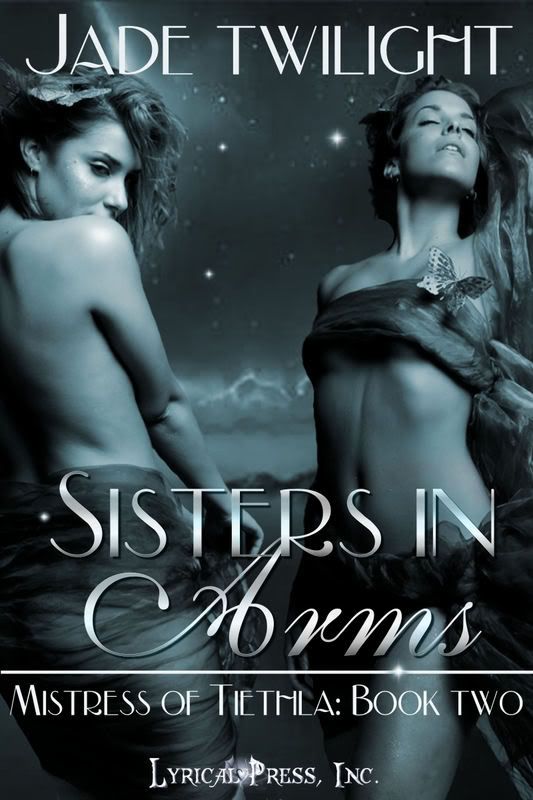 Sisters In Arms
Mistress Of Tiethla Book 2
Genre: Erotica/Fantasy
Length: Short
Cover art by Renee Rocco
Alex once again heeds Tiethla's call…and this time, she's not alone.
The Mastive has escaped and is scraping his way back into power. A prophecy says Alex must stop the Mastive once and for all, but how can she defeat such darkness alone?
Alex is given some temporary hope by the unexpected arrival of Riley, who agrees to help in exchange for passage back to their home world. But Tiethla has a surprise in store for Riley, and there may be no going home once her true identity is revealed.
Content Warning: Explicit sex, graphic language, ménage a trios, sex with cat men.
What the reviewers are saying!